Essential Height Safety have built an enviable reputation as Australia's leading experts in Height Safety, Safe Roof Access and Roof Safety. With a team of highly Trained and Accredited Specialists, we've worked with more than 1000 businesses, helping them safely control Height Safety risks and identify Roof Access hazards in Melbourne, Sydney, Adelaide, Canberra, Brisbane, Perth, Darwin and Hobart.
As the Market Leader Trusted by Australia's largest builders, commercial property owners and facility managers, we offer a complete range of Height Safety Assessment Services to ensure fall protection while working at height and legal compliance for business to all regulations, standards and codes.
Trust the Specialised and Accredited Experts
With a team of highly trained and accredited specialists, Essential Height Safety are Australia's leading experts in Height Safety Audits and Height Safety Compliance. Since inception, we have been working with more than 1000 businesses, helping them safely control Height Safety risks and identify Roof Access hazards.
The expert advice and help from our team of Height Safety Specialists will ensure the height safety compliance of every roof on your buildings. No matter the size of the job, or the height the workers are operating, it is crucial to have compliant height safety equipment and fall protection in place and for that equipment to be well maintained, regularly inspected and compliant.
Keep Workers Safe at Height – Comply with your legal obligations
Height safety compliance is complicated and full of risk around legalities, liability and indemnity. As Essential Height Safety has a comprehensive knowledge of OHS legislation, Australian Standards, and codes of practice, you can trust us to protect your company from civil and criminal risk and protect your workers from the risk of a fall at height.
When it comes to height safety, certainty is required. Don't second guess your height safety equipment or wonder if your fall protection measures are compliant to call codes. Ensure your site meets height safety compliance laws and you'll be promoting not only a more productive workplace but one that can operate free from safety concerns or doubts.
Essential Height Safety can help and provide advice on your Height Safety compliance obligations. This ensures you can keep workers safe at height, and your business is legally compliant with all Australian Standards, Codes of Practice and Legislation.
Ready to ask some questions? Our team are always happy to walk you through our complete range of Height Safety Services and Height Safety Solutions. Call us on 1300 88 11 73 today.
Codes of Practice
As a company giving employees and contractors access to your rooftop, its important you understand the Codes of Practice. This will ensure legal compliance with the Work Health and Safety Act and Regulations. Did you know….? According to the National Code of Practice for the Prevention of Falls in General Construction "work that involves a risk of a person falling more than 2 metres" is classified as High Risk Construction Work. Approved codes can be submitted as evidence in court proceedings and may be used when determining what is "reasonably practicable" in regard to hazards, risks or controls.
Codes of practice cover various areas including:
Management of risks and how to identify hazards
Implementation and maintenance of control measures
Types of devices for use in regard to the risks or hazards
Emergency procedures
Design considerations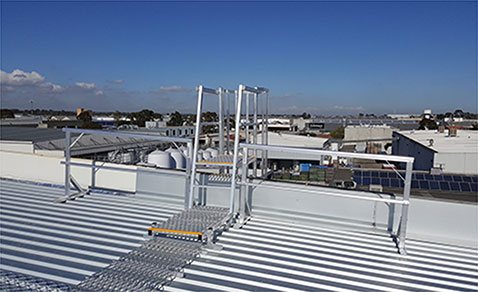 All of Essential Height Safety solutions are compliant with Australian Standards, Codes and Legislation
Australian Standards and Codes
AS 1657:2018 -> Fixed platforms. Walkways. Stairs. Ladders
AS/NZS 1891.1 Part 1: Safety Belts and Harnesses
AS/NZS 1891.2 Part 2: Horizontal Lifeline and Rail Systems
AS/NZS 1891:3 Part 3: Fall Arrest Devices
AS/NZS 1891.4 : 2009 -> Fall-arrest systems. Selection, Use and Maintenance of Industrial Fall Arrest Systems and Devices
AS/NZS 4488 -> Rope access systems
Australian Legislation
WHS Act – Work Health and Safety Act 2011
OHS Acts and Regulations – State and Territory Governments
Federal and State Workcover or Workplace Authorities
Australian Government National OHS Commission
National Standards, Codes of Practice and Guidance Material
State and Territory Governments – Building Acts and Regulations
Our Height Safety Testing and Height Safety Inspection Services ensures your equipment is inspected to meet all regulatory and compliance requirements. All systems and gear are visually inspected and load tested to ensure safe use and compliance. Upon completion of the Height Safety Inspection, we provide a detailed report, update all service tags and include a system layout plan.
Our Height Safety Certification services ensure your Height Safety Solutions and systems are certified to minimum Australian Standards. Once Essential Height Safety installs or certifies a system, you will be provided with certificate of compliance. Our Height Safety Certifications provide an assurance when working at height,  so your workers can access your roof knowing they are protected and safe and your business is protected form criminal and civil risk.
Our advanced Height Safety Audits provide a comprehensive report where all compliant and non-compliance issues are identified. Extensive recommendations are then made on a compliant height safety solution to meet all Australian Standards, Codes of Practice and Regulatory compliance obligations.  Whether you have one building or many, our team of accredited and specialist Height Safety Experts will provide an impartial and balanced assessment of your Height Safety Systems deployed. If upgrades or improvements to your roof access or height safety systems are required for compliance, then the Essential Height Safety team can install a full range of Height Safety Solutions to keep workers safe.